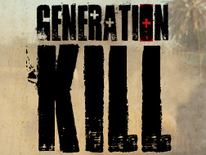 Welcome to the Generation Kill Wiki Edit
The Wikia page for the HBO mini-series, Generation Kill.
Generation Kill is an American seven-part television miniseries produced for HBO, based on the 2004 book of the same name by Evan Wright about his experience as an embedded reporter with the United States Marine Corps' 1st Reconnaissance Battalionduring the 2003 invasion of Iraq.
Generation Kill Trailers
Edit
Latest activity
Edit
Ad blocker interference detected!
Wikia is a free-to-use site that makes money from advertising. We have a modified experience for viewers using ad blockers

Wikia is not accessible if you've made further modifications. Remove the custom ad blocker rule(s) and the page will load as expected.